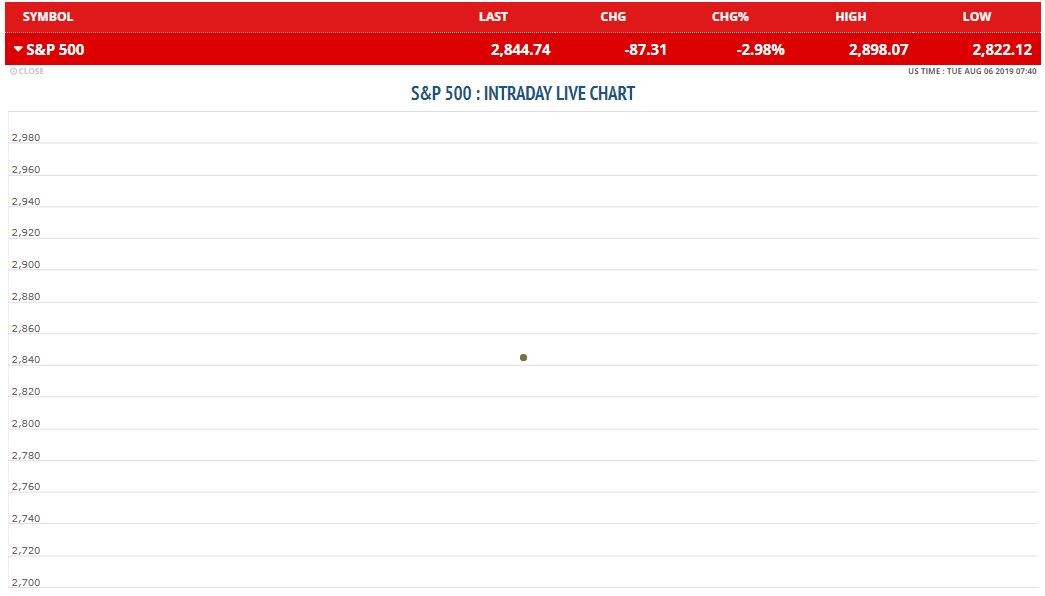 US PRE MARKET
The S&P 500 Futures is trading at 2,853.12  up with +0.86% percent or +24.38 point.  Other U.S. stock futures higher in pre-market trading for  August 06.  The Dow Futures is trading at 25,745.00 up  with +0.76% percent or +195.00 point.The Nasdaq Futures is trading at 7,454.75  up with +1.08% percent or +79.75 point.
TUESDAY'S FACTORS AND EVENTS
The U.S. Treasury officially designated China as a "currency manipulator" on Monday, following a sharp fall in the value of the Chinese yuan against the dollar.
The drop surprised financial markets, as Beijing usually supports the currency.
Late last week, China vowed to retaliate after President Donald Trump threatened to impose a 10% tariff on $300 billion worth of Chinese imports.
On Monday, the yuan breached the 7 per dollar level for the first time since 2008.
A protracted trade dispute between the U.S. and China has now dragged on for more than a year. Both countries have slapped additional tariffs on each other's goods worth billions of dollars, and the escalating tensions have spooked markets and hurt global economic growth outlook.
MONDAY'S ACTIVITY
For the day the Dow is trading at 25,717.74  with a loss of -2.90% percent or -767.27 point. The S&P 500 is trading at S&P 500 with a loss of -2.98% percent or -87.31 point. The Nasdaq Composite is trading at 7,726.04 with a loss of -3.47% percent or -278.03 point.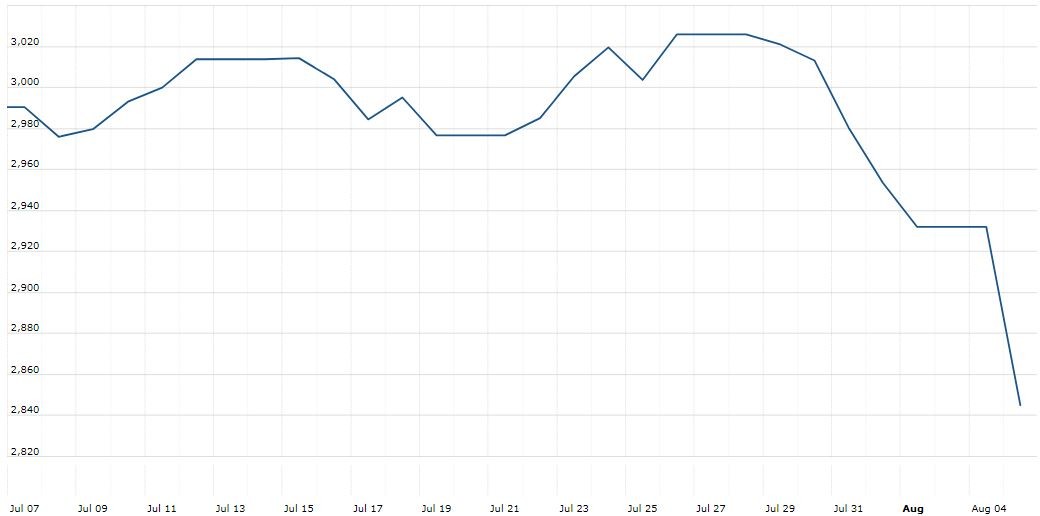 Other leading market index closes included the small-cap Russell 2000 Index closed at 1,487.41   with a loss of -3.02% percent or -46.25  point; the S&P 600 Small-Cap Index closed at 911.71 with a loss of -2.82% percent or −26.43 point; the S&P 400 Mid-Cap Index closed at 1,860.83   with  a loss of  -2.80% percent or -53.70 point; the S&P 100 Index closed at 1,256.99 with a loss of -3.06% percent or -39.66 point; the Russell 3000 Index closed at 1,671.77 with a loss of -2.99% percent or -51.54 point; the Russell 1000 Index closed at 1,575.30   with a loss of -2.99% or -48.54 point.
In overnight trading in the Eastern Hemisphere, In other parts of world, Japan's Nikkei 225 is trading at 20,720.29 with a loss of -1.74% percent or -366.87 point. Hong Kong's Hang Seng is trading at 26,178.56  with a loss of -2.75% percent or -740.02 point. China's Shanghai Composite is trading at 2,821.50  with a loss of -1.62% percent or -46.34 point. India's BSE Sensex is trading at 36,671.11  with a loss of -1.21% percent or -447.99 point at 12:15 PM.The FTSE 100 is trading at 7,231.31 up with +0.10% percent or +7.46 point. Germany's DAX is trading at 11,735.18  up with  +0.66% percent or +76.67 point. France's CAC 40 is trading at 5,294.35   up with +1.01% percent or +52.81 point. The Stoxx Europe 600 is trading at 371.69  up with +0.61% percent or +2.18  point.