 US PRE MARKET
The S&P 500 Futures is trading at 2,969.88 up with +0.98% percent or +28.88 point. Other U.S. stock futures higher in pre-market trading for  october 11.The Dow Futures is trading at 26,748.50 up with +1.00% percent or +264.50 point. The Nasdaq Futures is trading at 7,847.50 up with +1.12% percent or +87.25 point.
FRIDAY'S FACTORS AND EVENTS
However, our chart of the day suggests that regardless of geopolitical tensions and global uncertainty, the Federal Reserve will still run the show.
Bank of America Merrill Lynch highlighted a particularly turbulent period of American history between 1968 and 1976, which included the Vietnam War, the end of the Bretton Woods monetary system, an oil crisis and Nixon's impeachment process.
Despite all of the above, BAML said the Dow "slavishly followed the path of Fed policy — easing caused rallies and tightening caused corrections."
THURSDAY'S ACTIVITY
For the day the Dow is trading at 26,496.67 up with +0.57% percent or  +181.97  point. The S&P 500 is trading at 2,938.13 up with +0.64% percent or +18.73 point. The Nasdaq Composite is trading at 7,950.78 up with +0.60% percent or +47.04 point.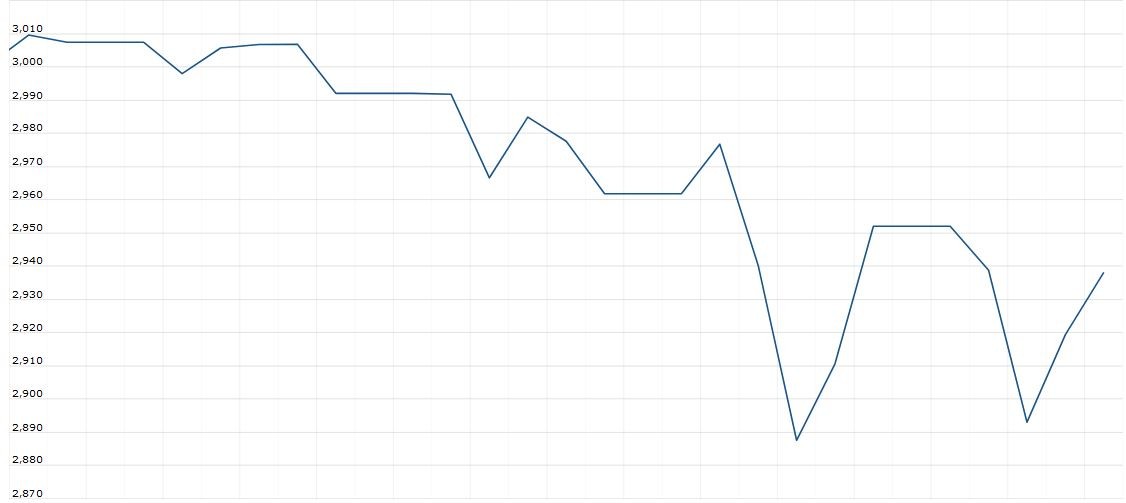 Other leading market index closes included the small-cap Russell 2000 Index closed at 1,485.36 up with +0.40%  percent or +5.90 point; the S&P 600 Small-Cap Index closed at 918.36 up with +0.24% percent or +2.19 point; the S&P 400 Mid-Cap Index closed at 1,884.17 up with +0.55% percent or +10.38 point; the S&P 100 Index closed at 1,302.41 up with +0.64% percent or +8.29 point; the Russell 3000 Index closed at 1,718.37 up with +0.59% percent or  +10.15 point; the Russell 1000 Index closed at 1,622.49 up with +0.61% or +9.80 point.
In overnight trading in the Eastern Hemisphere, In other parts of world, Japan's Nikkei 225 is trading at 21,798.87 up with +1.15% percent or +246.89 point. Hong Kong's Hang Seng is trading at 26,313.84 up with +2.36% percent or  +605.91 point. China's Shanghai Composite is trading at 2,973.66 up with +0.88% percent or +25.95 point. India's BSE Sensex is trading at 37,967.01 up with 0.23% percent or +86.61  point at 12:15 PM. Germany's DAX is trading at 12,409.95 up with +2.02% percent or +245.75 point. France's CAC 40 is trading at 5,629.81  up with +1.09% percent or +60.76 point. The Stoxx Europe 600 is trading at 388.66 with +1.55% percent or +5.98 point.