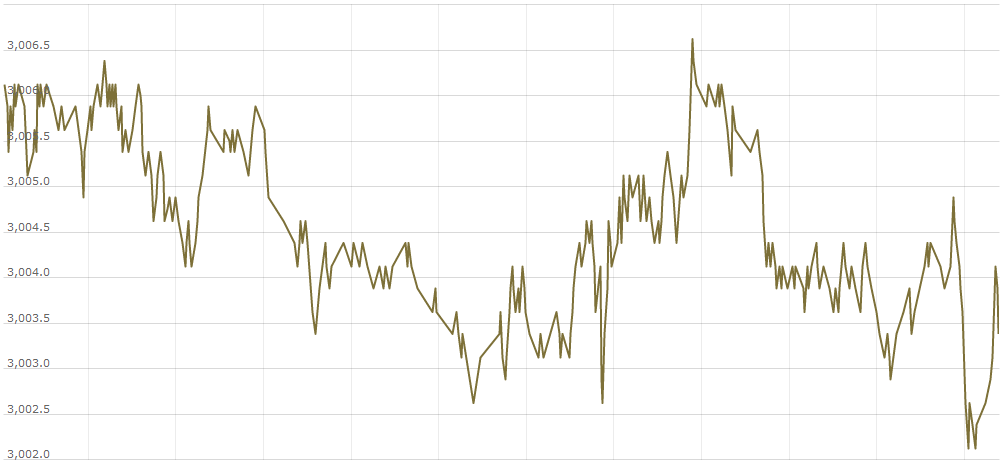 US PRE MARKET
The S&P 500 Futures is trading at 3,004.38 with a loss of -0.12% percent or -3.62 point. Other U.S. stock futures lower in pre-market trading for  September 18.The Dow Futures is trading at 27,084.50 with a loss of -0.09% percent or -25.50 point.The Nasdaq Futures is trading at 7,903.00 with a loss of -0.15% percent or -11.50 point.
TUESDAY'S FACTORS AND EVENTS
overnight funding rates are competing for headline space with oil and today's FOMC rate decision, with the Federal Reserve dusting off its procedures manuals to conduct its first overnight repo operations in 9 years. Overnight funding rates had spiked to almost 10% yesterday following another oil-induced jump on Monday with the Fed having to add over $53 billion in liquidity via overnight repos with another $75 billion on standby today.
The various conspiracy theories floating around as to the cause of the spike ranged from payment of tax receipts due this week to Treasury short-term paper issuance to finance the government's burgeoning budget deficit. The Financial Times speculated that the Saudis could be liquidating short-term U.S. dollar assets to cover the country's running costs while oil production was offline.
MONDAY'S ACTIVITY
For the day the Dow is trading at 27,110.80 up with +0.13% percent or +33.98 point. The S&P 500 is trading at 3,005.70  up with +0.26% percent or +7.74 point. The Nasdaq Composite is trading at 8,186.02 up with +0.40% percent or +32.47 point.
Other leading market index closes included the small-cap Russell 2000 Index closed at 1,578.29 with a loss of –0.40% percent or –6.31 point; the S&P 600 Small-Cap Index closed at 976.60 with a loss of –0.26% percent or –2.59 point; the S&P 400 Mid-Cap Index closed at 1,959.49 with a loss of -0.34% percent or –6.60 point; the S&P 100 Index closed at 1,327.12 up with +0.21% percent or  +2.82 point; the Russell 3000 Index closed at 1,764.50 up with +0.22% percent or +3.81 point; the Russell 1000 Index closed at 1,662.06 up with 0.26% or +4.31 point.
In overnight trading in the Eastern Hemisphere, In other parts of world, Japan's Nikkei 225 is trading at 21,960.71 with a loss of –0.18% percent or –40.61 point. Hong Kong's Hang Seng is trading at 26,776.10   with a loss of –0.053% percent or –14.14 point. China's Shanghai Composite is trading at 2,985.66 up with +0.25% percent or +7.54 point. India's BSE Sensex is trading at 36,617.98  up with +0.37% percent or +136.54 point at 12:15 PM.The FTSE 100 is trading at 7,330.04 with up  +0.13% percent or  +11.05 point. Germany's DAX is trading at 12,389.01  up with +0.13%percent or +16.40 point. France's CAC 40 is trading at 5,625.57 up with +0.18% percent or +10.06 point. The Stoxx Europe 600 is trading at 389.75 up with +0.11% percent or +0.39  point.