 US PRE MARKET
The S&P 500 Futures is trading at 3,006.12 up with +0.30% percent or +9.12 point. Other U.S. stock futures higher in pre-market trading for  September 24.The Dow Futures is trading at 27,037.50 up with +0.28% percent or +74.50 point. The Nasdaq Futures is trading at7,876.75 up with +0.33% percent or +26.25 point.
TUESDAY'S FACTORS AND EVENTS
Early bird Nike Inc (NYSE:NKE) will get a jump-start on this fall's earnings season this week, set to report its fiscal first-quarter earnings tomorrow after the close, Sept. 24. Ahead of the event, NKE options traders have come out of the woodwork in larger-than-normal numbers, with some eyeing a post-earnings pullback from the apparel giant.
Less than two hours into today's trading, almost 10,000 options have changed hands on NKE. This is three times what's typically seen at this point in the session, and volume pacing for the 96th percentile of its annual range. Specifically, the weekly 9/27 82- and 87.50-strike puts are active, with new positions being opened at both. This indicates options traders are targeting a sharp drop from NKE by the end of this week, when the options expire.
MONDAY'S ACTIVITY
For the day the Dow is trading at 26,949.99 up with +0.055% percent or +14.92 point. The S&P 500 is trading at 2,991.78  with a loss of –0.0097% percent or –0.29 point. The Nasdaq Composite is trading at 8,112.46 with a loss of –0.064% percent or  –5.21 point.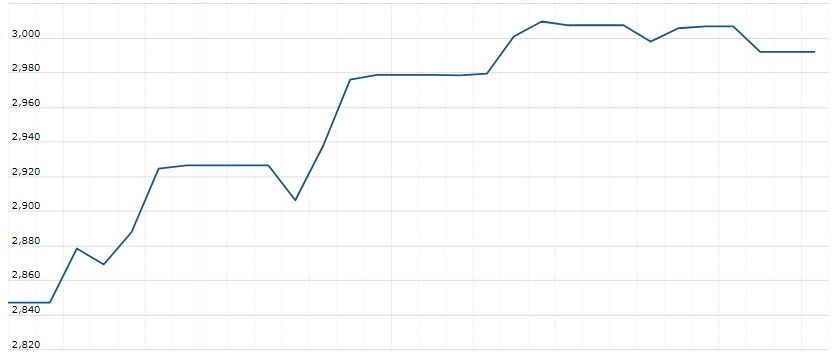 Other leading market index closes included the small-cap Russell 2000 Index closed at 1,558.25 with a loss of  –0.097%  percent or –1.52 point; the S&P 600 Small-Cap Index closed at 962.44 up with 0.034% percent or +0.33 point; the S&P 400 Mid-Cap Index closed at 1,947.83 up with +0.16% percent or +3.19 point; the S&P 100 Index closed at 1,321.21 with a loss of –0.037% percent or −0.49 point; the Russell 3000 Index closed at 1,755.21 with a loss of   –0.0055% percent or −0.097 point; the Russell 1000 Index closed at 1,654.19 up with +0.0010% or +0.017 point.
In overnight trading in the Eastern Hemisphere, In other parts of world, Japan's Nikkei 225 is trading at 22,098.84 up with +0.089% percent or +19.75 point. Hong Kong's Hang Seng is trading at 26,284.10 up with +0.24% percent or +61.70 point. China's Shanghai Composite is trading at 2,985.34 up with +0.28% percent or +8.26 point. India's BSE Sensex is trading at39,008.18 with a loss of  –0.21% percent or –81.85 point at 12:15 PM. Germany's DAX is trading at 12,351.77 up with +0.076% percent or +9.44 point. France's CAC 40 is trading at 5,643.69 up with +0.23% percent or +12.93 point. The Stoxx Europe 600 is trading at 390.51 up with +0.19% percent or +0.77  point.