US PRE MARKET
The S&P 500 Futures is trading at 2,999.62  up with +0.36% percent or +0.05% point. Other U.S. stock futures higher in pre-market trading for  October 18.The Dow Futures is trading at 26,998.00 up with +0.02% percent or +5.00 point.The Nasdaq Futures is trading at 7,951.25  with a loss of -0.02% percent or -1.50 point.
THURSDAY'S FACTORS AND EVENTS
The U.S. and China may be nearing a tentative, partial trade agreement but the IMF's new leader has warned the trade truce won't be enough to boost global growth.
Another ongoing dispute may also be nearing a resolution, with the U.K. and EU agreeing a Brexit deal, though British MPs still have to approve it.
But the U.S. has confirmed tariffs on $7.5 billion worth of European goods will take effect on Friday, proving that geopolitical tensions are here to stay.
Hedge fund billionaire Ray Dalio, in our call of the day, says the global economy is in a "great sag" and the world has parallels to the 1930s.
WEDNESDAY'S ACTIVITY
For the day the Dow is trading at 27,025.88 up with 0.089% percent or +23.90  point. The S&P 500 is trading at 2,997.95  up with +0.28% percent or +8.26 point. The Nasdaq Composite is trading at 8,156.85  with +0.40% percent or +32.67 point.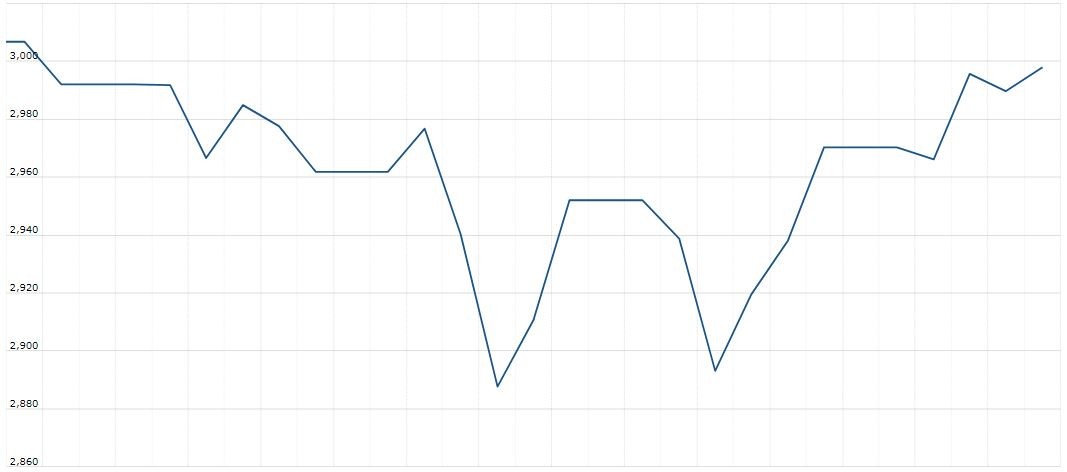 Other leading market index closes included the small-cap Russell 2000 Index closed at 1,541.84 up with +1.10% percent or +16.79 point; the S&P 600 Small-Cap Index closed at 955.41 up with +1.10% percent or +10.36 point; the S&P 400 Mid-Cap Index closed at 1,938.65 with 0.85% percent or +16.25 point; the S&P 100 Index closed at 1,329.82 up with +0.23% percent or +3.09 point; the Russell 3000 Index closed at 1,755.15 up with +0.36%  percent or +6.26 point; the Russell 1000 Index closed at 1,655.37  up with +0.31%  or +5.06  point.
In overnight trading in the Eastern Hemisphere,In other parts of world, Japan's Nikkei 225 is trading at 22,492.68 up with +0.18% percent or +40.82 point. Hong Kong's Hang Seng is trading at 26,698.59 with a loss of –0.56% percent or –149.90 point. China's Shanghai Composite is trading at 2,938.14 with a loss of –1.32% percent or –39.19  point. India's BSE Sensex is trading at 39,258.78 up with +0.53% percent or +206.72 point at 12:15 PM.Germany's DAX is trading at 12,670.72  up with +0.12% percent or  +15.77 point. France's CAC 40 is trading at 5,654.42  with a loss of –0.33% percent or –18.64 point. The Stoxx Europe 600 is trading at 392.95   with a loss of -0.03% percent or -0.02  point.