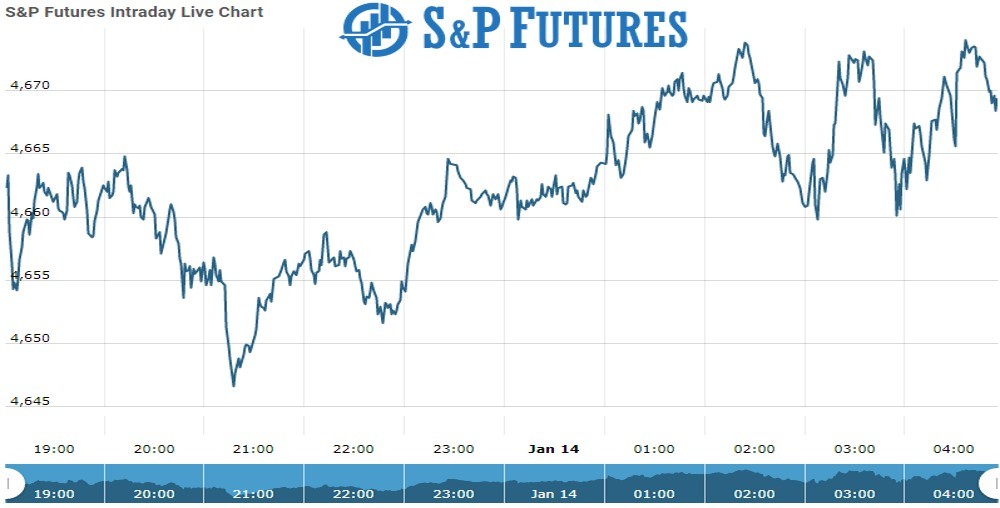 S&P Futures Update : 14 Jan 2022
The S&P 500 Futures is  trading at 4,662.90 up with +0.08% percent or +3.90 point.Other U.S. stock futures higher in pre-market trading for Jan 14.The Dow Futures is trading at 36,165.30 with +0.14% percent or +51.70point.The Nasdaq Futures is trading at 15,506.90 up with  +0.07% percent or +11.30 point.
FRIDAY'S FACTORS AND EVENTS
French state-owned utility EDF plunged more than 18% after being ordered by the government to sell more of its cheap nuclear power to smaller rivals in order to curb electricity price rises. The company subsequently dropped its earnings guidance.
THURSDAY'S ACTIVITY
For the day the Dow is trading at 36,113.62  with a loss of –0.49% percent or ?176.70  point. The S&P 500 is trading at 4,659.03 with a loss of- 1.42% percent or –67.32   point. The Nasdaq Composite is trading at 14,806.81 with a loss of –2.51% percent or –381.58    point.
Other leading market index closes included the small-cap Russell 2000 Index closed at 2,159.44 with  a loss of -0.76% percent or -16.62 point. the S&P 600 Small-Cap Index closed at 1,382.02 with 0.010% percent or +0.14 point. the S&P 400 Mid-Cap Index closed at 2,791.76 with a loss of –0.25% percent or −7.03 point. the S&P 100 Index closed at 2,146.00 with a loss of –1.66% percent or  −36.25  point.the Russell 3000 Index closed at 2,712.91 with a loss of -1.44% percent or −39.74 point. the Russell 1000 Index closed at 2,576.47 with a loss of –1.49% or −38.90  point.
In other parts of world, Japan's Nikkei 225 is trading at 28,122.42 with a loss of –1.29% percent or -366.71   point. Hong Kong's Hang Seng is trading at 24,194.42 with a loss of –0.96% percent or -235.35 point. China's Shanghai Composite is trading at 3,535.45 with a loss of –0.56% percent or -19.81  point. India's BSE Sensex is trading at 60,926.01 with a loss of –0.51% percent or -309.29  point at 12:15 PM.For the day the FTSE 100 closed at 7,563.85 up with +0.16% percent or +12.13 point. France's CAC 40 closed at 7,201.14 with a loss of -0.50% percent or ?36.05  point.Germany's DAX closed at 16,031.59  up with +0.13% percent or +21.27 point.