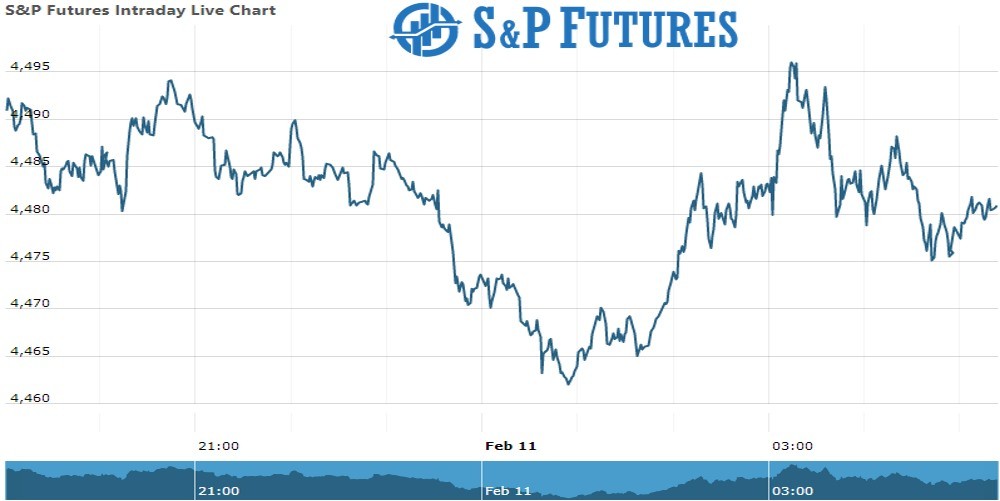 S&P Futures Update : 11 Feb 2022
The S&P 500 Futures is  trading at 4,476.90 with a loss of –0.60% percent or -27.20 point.Other U.S. stock futures LOWER in pre-market trading for Feb 11.The Dow Futures is trading at 35,060.90 with a loss of -0.51% percent or -180.70 point.The Nasdaq Futures is trading at 14,607.80 with a loss of -0.67% percent or -97.80 point.
FRIDAY'S FACTORS AND EVENTS
Risk sentiment was then further dampened when St. Louis Fed President James Bullard, a member of the Fed's rate-setting committee, acknowledged that the reading had rendered him "dramatically" more hawkish. Bullard said he's now hoping for a full percentage point of interest rate rises in the first half of the year.
THURSDAY'S ACTIVITY
For the day the Dow is trading at 35,241.59 with a loss of –1.47% percent or –526.47 point. The S&P 500 is trading at 4,504.08 with a loss of –1.81% percent or –83.10  point. The Nasdaq Composite is trading at 14,185.64 with a loss of –2.10% percent or –304.73  point.
Other leading market index closes included the small-cap Russell 2000 Index closed at 2,051.16 with a loss of -1.55% percent or -32.34 point. the S&P 600 Small-Cap Index closed at 1,304.02 with a loss of –1.39% percent or −18.32  point. the S&P 400 Mid-Cap Index closed at 2,681.78 with a loss of –1.46% percent or −39.76 point. the S&P 100 Index closed at 2,073.56 with a loss of –1.83% percent or  −38.76  point.the Russell 3000 Index closed at 2,622.48 with a loss of -1.75% percent or −46.85  point. the Russell 1000 Index closed at 2,493.40 with a loss of –1.77% or −44.87 point.
In other parts of world, Japan's Nikkei 225 is trading at 27,696.08 up with +0.42% percent or +116.21  point. Hong Kong's Hang Seng is trading at 24,844.37 with a loss of –0.32% percent or -79.98 point. China's Shanghai Composite is trading at 3,487.98  up with +0.059% percent or +2.07   point. India's BSE Sensex is trading at 58,056.72 with a loss of –1.48% percent or ?869.31   point at 12:15 PM.For the day the FTSE 100 closed at 7,672.40 up with +0.38% percent or +28.98  point. France's CAC 40 closed at 7,101.55 with a loss of -0.41% percent or ?29.33  point.Germany's DAX closed at 15,490.44 up with +0.054% percent or +8.43 point.