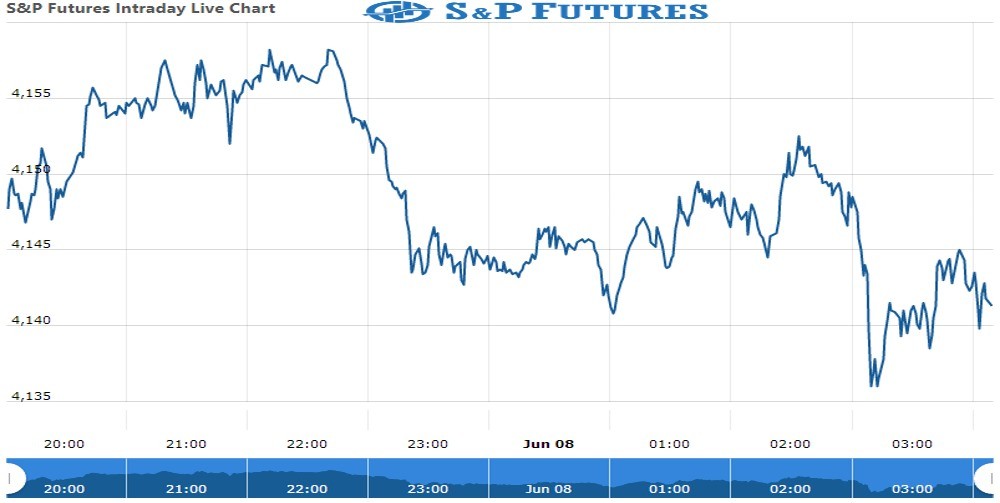 S&P Futures Update : 08 June 2022
The S&P 500 Futures is  trading at 4,142.80 with a loss of –0.43% percent or -17.90 point..Other U.S. stock futures lower in pre-market trading for June 08.The Dow Futures is trading at 33,065.8 with a loss of  -0.34% percent or -114.3 point.The Nasdaq Futures is trading at 12,653.0 with a loss of -0.46% percent or –58.7 point.
TUESDAY'S FACTORS AND EVENTS
Obviously … the RBA is feeling pinched, they're feeling that the global inflation pressures are there, that it's arrived in Australia too and they're watching their colleagues offshore and fast moving pace of what other central banks are doing probably played a role as well.
MONDAY'S ACTIVITY
For the day the Dow is trading at 33,180.14  up with +0.80% percent or +264.36  point. The S&P 500 is trading at 4,160.68 up with +0.95% percent or +39.25   point. The Nasdaq Composite is trading at 12,175.23 up with +0.94% percent or +113.86  point.
Other leading market index closes included the small-cap Russell 2000 Index closed a 1,919.56 with +1.57% percent or  +29.68 point. the S&P 600 Small-Cap Index closed at 1,265.26 up with +1.10% percent or +13.74 point. the S&P 400 Mid-Cap Index closed at 2,567.72 up with +1.26% percent or +31.95point. the S&P 100 Index closed at 1,882.66 with +0.89% percent or  +16.67 point.the Russell 3000 Index closed at 2,409.86  up with +1.04%percent or +24.92  point. the Russell 1000 Index closed at 2,288.61 up  with +1.01% or +22.91 point.
In other parts of world, Japan's Nikkei 225 is trading at 28,191.13 up with 0.88% percent or +247.18   point. Hong Kong's Hang Seng is trading at 21,881.48  up with +1.62% percent or +349.81  point. China's Shanghai Composite is trading at 3,234.59 with a loss of –0.22% percent or -7.18  point. India's BSE Sensex is trading at 55,178.90  up with +0.13% percent or +71.56  point at 12:15 PM.For the day the FTSE 100 closed at 7,598.93  with a loss of  –0.12% percent or –9.29  point. France's CAC 40 closed at 6,500.35 with a loss of  –0.74% percent or –48.43 point.Germany's DAX closed at 14,556.62 with a loss of –0.66% percent or –97.19 point.