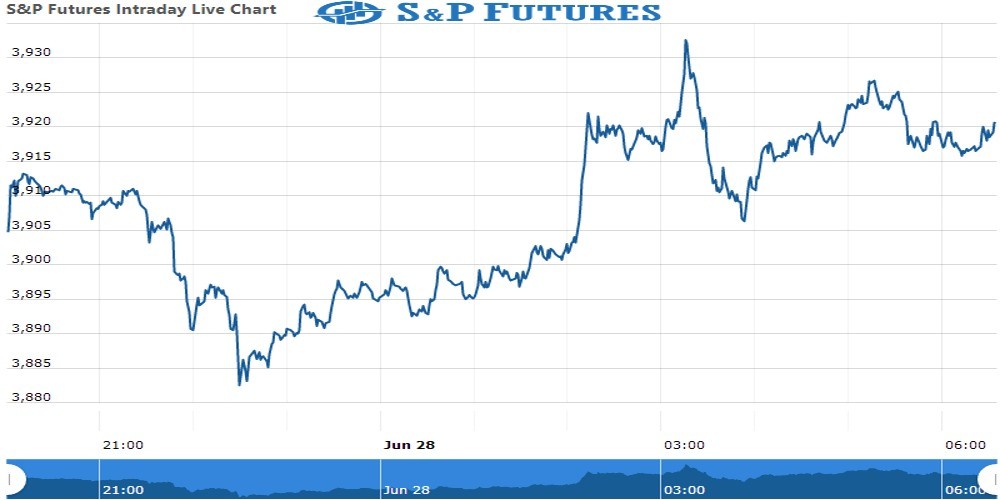 S&P Futures Update : 28 June 2022
The S&P 500 Futures is  trading at 3,918.70 with +0.48% percent or +0.48% point.Other U.S. stock futures higher in pre-market trading for June 28.The Dow Futures is trading at 31,602.5 with +0.52% percent or +164.2 point.The Nasdaq Futures is trading at 12,058.5 up with +0.42% percent or +50.3 point.
FRIDAY'S FACTORS AND EVENTS
The gains in Europe at the open tracked those in the Asia-Pacific region, which swung into positive territory during afternoon trade. The moves came after China's decision to halve the quarantine period to seven days, with a further three days spent at home, which gave markets a signal that Beijing is relaxing its strict approach to eradicating Covid-19.
THURSDAY'S ACTIVITY
For the day the Dow is trading at 31,438.26 with a loss of –0.20% percent or -62.42   point. The S&P 500 is trading at 3,900.11  with a loss of –0.30% percent or -11.63 point. The Nasdaq Composite is trading at 11,524.55 up with +0.72% percent or +83.07   point.
Other leading market index closes included the small-cap Russell 2000 Index closed a 1,771.74 up with 0.34% percent or  6.01 point. the S&P 600 Small-Cap Index closed at 1,161.44 with 0.79% percent or +9.12 point. the S&P 400 Mid-Cap Index closed at 2,342.00 up with 0.33% percent or +7.60 point. the S&P 100 Index closed at 1,780.89 with a loss of –0.46% percent or  −8.31 point.the Russell 3000 Index closed at 2,254.61  up with 0.27% percent or −6.17  point. the Russell 1000 Index closed at 2,143.00 with a loss of -0.31% or −6.71 point.
In other parts of world, Japan's Nikkei 225 is trading at 27,049.47 with 0.66% percent or +178.20  point. Hong Kong's Hang Seng is trading at 22,394.76  up with +0.74% percent or +165.24 point. China's Shanghai Composite is trading at 3,407.58 with 0.84% percent or +28.40 point. India's BSE Sensex is trading at 52,964.41  with a loss of 0.37% percent or –196.87  point at 12:15 PM.For the day the FTSE 100 closed at 7,258.32 up with +0.69% percent or +49.51  point. France's CAC 40 closed at 6,047.31 with a loss of –0.43% percent or ?26.04  point.Germany's DAX closed at 13,186.07 with 0.52% percent or +67.94  point.