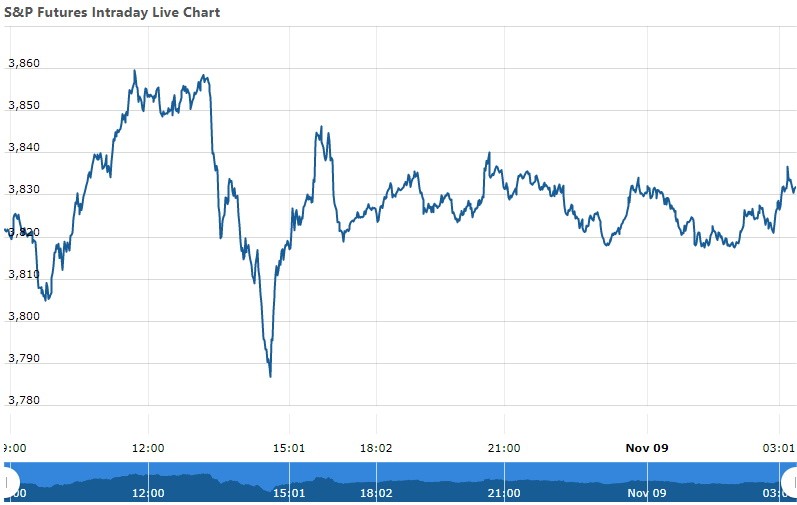 S&P Futures Update : 09 Nov 2022
The S&P 500 Futures is  trading at 3,822.20 with a loss of -0.15% percent or -5.90 point.Other U.S. stock futures lower in pre-market trading for Nov 09.The Dow Futures is trading at 33,079.7 with a loss of -0.24% percent or -81.1 point.The Nasdaq Futures is trading at 11,070.8 up with +0.10% percent or +11.3 point.
WEDNESDAY'S FACTORS AND EVENTS
The midterm elections will determine whether Democrats keep their slim majorities in the House and Senate, or if Republicans will seize control of one or both chambers of the legislature, an outcome that would mean there's a significant power shift in Washington and the potential for gridlock.
TUESDAY'S ACTIVITY
For the day the Dow is trading at 33,160.83 up with +1.02% percent or +333.83 point. The S&P 500 is trading at 3,828.11 up with 0.56% percent or +21.31 point. The Nasdaq Composite is trading at 10,616.20 with 0.49% percent or +51.68 point.
Other leading market index closes included the small-cap Russell 2000 Index closed a 1,808.93 with a loss of –0.05% percent or  -0.88 point. the S&P 600 Small-Cap Index closed at 1,184.26 up with 0.12% percent or +1.43 point. the S&P 400 Mid-Cap Index closed at 2,431.16 up with +0.19% percent or +4.69  point. the S&P 100 Index closed at 1,710.72 up with +0.48% percent or  +8.21 point.the Russell 3000 Index closed at 2,216.00 with 0.52% percent or +11.43 point. the Russell 1000 Index closed at 2,101.12 up with 0.56% or +11.62  point.
In other parts of world, Japan's Nikkei 225 is trading at 27,728.66 with a loss of –0.51% percent or ?143.45 point. Hong Kong's Hang Seng is trading at 16,305.46 with a loss of –1.52% percent or -251.85  point. China's Shanghai Composite is trading at 3,053.66 with a loss of –0.35% percent or -10.83 point. India's BSE Sensex is trading at 61,173.47  with a loss of  –0.019% percent or ?11.68 point at 12:15 PM.For the day the FTSE 100 closed at 7,306.14 up with +0.084% percent or +6.15 point. France's CAC 40 closed at 6,441.50 up with +0.39% percent or +24.89 point.Germany's DAX closed at 13,688.75 up with +1.15% percent or +155.23 point.