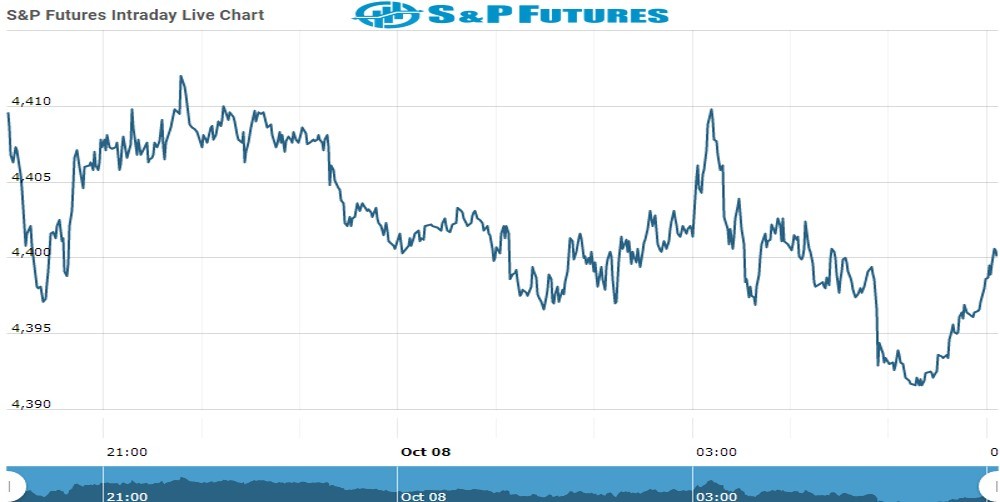 S&P Futures Update : 08 Oct 2021
The S&P 500 Futures is trading at 4,393.60 with a loss of –0.14% percent or -6.20 point.Other U.S. stock futures lower in pre-market trading for Oct 06.The Dow Futures is trading at 34,719.20 with a loss of -0.10% percent or -35.70 point.The Nasdaq Futures is trading at 14,861.50  with a loss of -0.24% percent or -35.60 point.
THURSDAY'S FACTORS AND EVENTS
Tesla is moving its headquarters from Palo Alto, California, to Austin, Texas, CEO Elon Musk announced at the company's shareholder meeting on Thursday.
The meeting took place at Tesla's vehicle assembly plant under construction outside of Austin on a property that borders the Colorado River, near the city's airport.
WEDNESDAY'S ACTIVITY
For the day the Dow is trading at 34,326.46 up with +1.43% percent or +482.54 point. The S&P 500 is trading at 4,357.04 up with +1.15%percent or +49.50  point. The Nasdaq Composite is trading at 14,566.70  up with +0.82% percent or +118.12  point.
Other leading market index closes included the small-cap Russell 2000 Index closed at 2,250.09 up with +1.59% percent or +35.14 point. the S&P 600 Small-Cap Index closed at  1,366.69  with +1.57% percent or +21.09 point. the S&P 400 Mid-Cap Index closed at 2,705.26 up with +1.42% percent or +38.00  point. the S&P 100 Index closed at 2,021.69 up with +0.77% percent or +15.54 point.the Russell 3000 Index closed at 2,614.30 up with +0.94% percent or +24.45 point. the Russell 1000 Index closed at 2,469.82 up with +0.90% or +22.01 point.
In other parts of world, Japan's Nikkei 225 is trading at 28,048.94 up with +1.34% percent or +370.73   point. Hong Kong's Hang Seng is trading at 24,750.44 up with +0.20% percent or +0.20% point. China's Shanghai Composite is trading at 3,592.42 up with +0.68% percent or +24.26  point. India's BSE Sensex is trading at 59,900.97  up with +0.37% percent or +223.14 point at 12:15 PM.For the day the FTSE 100 closed at 7,060.00 up with +0.03% percent or +2.00  point. France's CAC 40 closed at 6,585.00 up with +1.44% percent or +93.50  point.Germany's DAX closed at 15,210.50  with +0.05%percent or +8.00 point.